Join Our Team
Who We Are - Working at VocaliD
From creating voices to protecting them, we work at the forefront of voice AI. We are a nimble team of engineers, speech researchers, marketers, and data scientists. Our company is built on respect, credibility, empathy, and kindness. The right candidate will be agile, flexible, open-minded, and collaborative with a growth mindset. Must enjoy the excitement and energy of early-stage startups.
What We Really Do
Our solutions address the voice synthesis and security needs of individuals and organizations across all verticals. Not only do we create custom digital voices to enhance customer experiences for organizations and to empower those living with speechlessness, but we are also proactively building tools to safeguard against the unintended and nefarious use of our technology.
Lead Full Stack Software Developer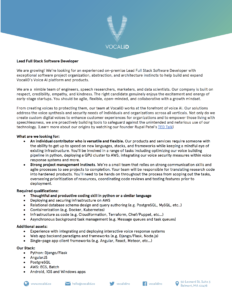 Interested?
Email your resume to jobs@vocalid.ai
We are growing! We're looking for an experienced on-premise Lead Full Stack Software Developer with exceptional software project organization, abstraction, and architecture instincts to help build and expand VocaliD's Voice AI platform and products.
What are we looking for:
An individual contributor who is versatile and flexible. Our products and services require someone with the ability to get up to speed on new languages, stacks, and frameworks while keeping a mindful eye of existing infrastructure. You'll be involved in a range of tasks including optimizing our voice building pipeline in python, deploying a GPU cluster to AWS, integrating our voice security measures within voice response systems and more. Strong project management instincts. We're a small team that relies on strong communication skills and agile processes to see projects to completion. Your team will be responsible for translating research code into hardened products. You'll need to be hands-on throughout the process from scoping out the tasks, overseeing prioritization of resources, coordinating code reviews and testing features prior to deployment.
Required qualifications:
Thoughtful and productive coding skill in python or a similar language
Deploying and securing infrastructure on AWS
Relational database schema design and query authoring (e.g. PostgreSQL, MySQL, etc..)
Containerization (e.g. Docker, Kubernetes)
Infrastructure as code (e.g. Cloudformation, Terraform, Chef/Puppet, etc…)
Asynchronous background task management (e.g. Message queues and task queues)
Additional assets:
Experience in integrating and deploying interactive voice response systems.
Web app backend paradigms and frameworks (e.g. Django/Flask, Node.js)
Single-page app client frameworks (e.g. Angular, React, Meteor, etc…)
Our Stack
Python: Django/Flask
AngularJS
PostgreSQL
AWS: ECS, Batch
Android, iOS and Windows apps
Interested in Interning at VocaliD?
We are always on the lookout for talented interns and co-ops! Some of our past interns have gone on to become permanent members of our team! You could be next!
If you are interested in what we do and think that you would be a great fit here at VocaliD, email us at jobs@vocalid.ai and let's chat.