VOCALiD :
YESTERDAY, TODAY, AND TOMORROW
2020 was, without question, a year like none other. While there was division, there was also a tremendous sense of community, coming together to help and support its own. People spoke up, spoke loudly, and continued to speak… all for those that weren't being heard.

These actions inspired us every day because it parallels our obsession with voice, and what voice means. Finding your voice, being brave enough to use it, and being heard authentically - these are powerful moments in a person's life, and these should be available to everyone. Having a voice is not limited to those who can speak. Everyone deserves to be heard, whether they were born with an operatic range or are living with speechlessness.

This is what we believe — everyone has a unique voice that deserves to be heard. This belief fundamentally fueled everything we did last year.
Within the assistive communication space, we have many accomplishments to share. We are proud to have welcomed 7k new Voicebank contributors, including our first from Greenland! And 57 students from the USSG International school in Guangzhou, China, participated in a Voice Drive in 2020! That brings the total number of our Human Voicebank users to over 87K today. Amazing, thank you!

To further this gift of voice - we have launched a Corporate Social Responsibility Employee Volunteer Program. We developed this in response to brands seeking unique remote volunteer opportunities for their staff. We are proud to welcome Verizon as our first CSR partner! Learn more about our CSR Programs.
Many of you know that we expanded our offerings in 2019 and began offering AI voice options to companies. We were receiving a growing number of inquiries in the enterprise business space as companies sought more robust and authentic-sounding text-to-speech voice options. Businesses that relied solely on traditional voice talent began seeking new ways to augment their content production processes — recognizing that their talent wasn't always available when they needed to deliver audible content.

For companies seeking audible content solutions, we recognized there was a need for more diverse voices, so we began recruiting voice talent from a broader range of vocal personalities, regions, and ethnicities for our enterprise-ready AI voices.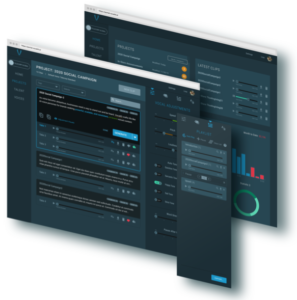 We have developed Parrot Studio, an audible content creation platform to further serve our enterprise clients. A first of its kind offering for content creators, Parrot offers efficiency AND customization to the audio production process, bringing AI voice to a new level. Those already using it in BETA call it a unique creative tool that stands out over standard API deployments.

To grow this side of our business we are forming alliances with other organizations who collectively see the potential benefits of AI voice for brands and consumers. We look forward to sharing these partnerships with you as they develop. Stay tuned for announcements soon.
Rupal's obsession with voice and dedication to diversity is why she was honored with several industry recognitions in 2020:
Finally, as we recap our achievements and advances, Meghan's article is an excellent segue into our technology. We continue to see massive improvements in the speed of voice building and reduction in data needed to create a voice. Today, VocaliD voices sound nearly identical to the individual who provided the source material, surprising those who have heard them side by side.

We are immensely proud of what our research and engineering team has accomplished. Currently, these advances are most accessible to our enterprise clients. Still, we keep pushing for these advances within the assistive realm. We believe those using synthetic voices to communicate should benefit from the latest technology, rather than limited by old-generation speech synthesis. We continue to advocate for this ideal.

Lastly, we are very excited about the psychological power of voice. We have been conducting an in-depth mapping of empathic response to voice, how people respond or feel when they hear a specific voice style. This will help us to better understand how AI voice can be used more effectively. By delving deeper into this, we are excited to see how we can bring our technology to greater heights.
We recognize that speaking of AI voices that sound just like voice talent or using voice to impact behavior may excite people and raise concerns about what-ifs. We need to stress our commitment to ethics in all of these advances.

In 2019 we were a founding member of Aithos Coalition, a consortium of synthetic media companies committed to ensuring ethics in AI. We believe that with every advance in technology we must consider any potential misuse of the technology. We MUST then take action to safeguard against these misuses. Click here for more information about Aithos Coalition.​
This year we have grown our team, and in response to Covid-19, shifted to remote work. We are so thankful for their continued dedication and ability to rise to new challenges through honest communication, humility, and the occasional embarrassing Zoom interruption from children, spouses, and pets.

Like many of you, we have also struggled with social isolation, lack of personal routines and professional structure, and detachment from family and friends. While we have been blessed with our physical and business health through this pandemic, we have watched friends, family, and community members suffering significant losses. With all sincerity, we send our love and compassion to all of you who have experienced loss. We are hopeful for what the future brings.

Thank you for being part of our community
- From all of us at VocaliD